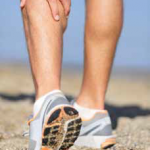 Prevention is key Sports massage can play an important role in the life of anyone, whether they are injured or not. Sports Massage is for everyone. For injury. For pampering. For deep relaxation.
Lower leg and ankle injuries
Shin splints is a name often given to any pain at the front of the lower leg. However, true shin splints symptoms occur at the front inside of the shin bone and can arise from a number of causes.
Calf strain The calf muscles consist of the Gastrocnemius which is the big muscle at the back of the lower leg and the Soleus muscle which is a smaller muscle lower down in the leg and under the Gastrocnemius.
Achilles Tendinitis  It is estimated that achilles tendonitis accounts for around 11% of all running injuries. The Achilles tendon is the large tendon at the back of the ankle. It connects the large calf muscles (Gastrocnemius and Soleus) to the heel bone (calcaneus) and provides the power in the push off phase of the gait cycle (walking and running).
Anterior compartment syndromes arise when a muscle becomes too big for the sheath that surrounds it causing pain. The big muscle on the outside of the shin is called the tibialis anterior and is surrounded by a sheath. This is called the anterior compartment of the lower leg. Compartment syndromes can be acute or chronic.
Enquiries:
Jimmy     07821 368 946
Amanda  07760 126 517