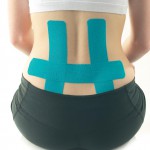 Kinesiology tape is a thin, stretchy, elastic cotton strip with an acrylic adhesive. Therapeutic kinesiology tape that can benefit a wide variety of musculoskeletal and sports injuries, plus inflammatory conditions.
 Kinesiology tape may help Soft Tissue Injuries
Such as muscle strains that may have the following symptoms:
Muscle tightness
Bruising
Weakness
Inability to fully stretch your injured muscle
The most severe the muscle strain obviously has more significant symptoms.
Benefits of Kinesiology Taping
Kinesiology tape has a comprehensive array of therapeutic benefits. Because kinesiology taping can usually be left on for several days or up to a week, these therapeutic benefits are available to the injured area 24 hours a day, significantly accelerating the healing process from trauma, injuries and inflammatory conditions.
Your muscle strength may be assisted by kinesiology tape via physical assistance and tactile feedback through the skin eg
proprioception
 boost.
Enquiries:
Jimmy     07821 368 946
Amanda  07760 126 517 
Prevention is key
Sports massage can
play an important role in the life of everyone
, whether they are injured or not
.

Sports Massage is for everyone
. For injury. For pampering. For deep relaxation.